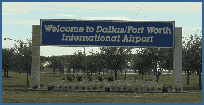 DFW AIRPORT OPENS FIRST FOREIGN CURRENCY ATM
Press Releases|What's New|Back to Corporate Page
---
DFW AIRPORT OPENS FIRST FOREIGN CURRENCY ATM
DALLAS/FORT WORTH AIRPORT, Texas, June 18, 1998 -- Dallas/ Fort Worth International Airport officials will join Thomas Cook officials in dedicating the first foreign currency exchange machine at a United States airport at 10 a.m. Friday, June 19 inside Terminal 2E, Section C outside security
Travelers at DFW will become the first airport customers in the nation to be offered an automated currency exchange machine available 24 hours from Thomas Cook. The six-foot tall, one sided kiosks, features a touch button for exchange of U.S. dollars in British Pounds, Canadian Dollars or Mexican Pesos and dispenses U.S. dollars in exchange for 20 different currencies. Receipts are bilingual for selected transactions and are limited to $300.00 U.S dollars. The Automatic Foreign Currency Exchange Machine being introduced by Thomas Cook is manufactured by SCANMAD, a French company and leader in the European market for automatic currency changers.
"We are very excited to have Thomas Cook introduce this unique new service to DFW Airport." Executive Director Jeff Fegan said. " It will provide convenience for our international customers who want to exchange their currency upon arrival, and provide high quality service."
The kiosk offers easy-to follow on-screen multi-lingual instructions and is available to the general public 24 hours a day.
" Today's launch reflects Thomas Cook's ongoing commitment to using leading edge technology solutions to enhance customer service," says Gary McDonald, Executive Vice President, Thomas Cook, Americas Region. "We are actively exploring automated solutions across al delivery channels to maximize customer convenience and expand upon the availability of our services."
Thomas Cook currently provides foreign currency exchange service at Terminal 2W, Gates 20 & 23; Terminal 2E, Gates 18&21; and in Terminal 4E with joint Disadvantaged/Business/Minority Enterprise partner Victor Puente at Gate 13.
International traffic continues to soar at DFW with 924,953 international passengers through March, a 10.2 percent increase from 1997.
In addition to dedicating their first currency exchange machine at DFW, Thomas Cook operates the world's largest network of foreign exchange branches and has been serving customers worldwide for more than 150 years. Today, the company has a network of over 13,000 locations in 100 countries and employs 12,000 staff who serve over 20 million customers each year. Thomas Cook is owned by Westdeutsche Landesbank of Germany, one of the leading global commercial banks.
In 1997, Thomas Cook had a gross volume of $16 million at Dallas/Fort Worth International Airport.
---

---
---
The information contained in this web site is deemed reliable but is not guaranteed. Every effort has been made to ensure the accuracy of data based on available sources.
Copyright 1998 Thomas Cook North America. For comments concerning this page and design: Vanessa Howle
This page was last updated Sept 1998