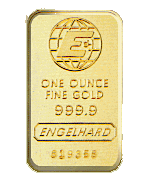 Precious Metals
---
---
Ever since its discovery 5,000 years ago, gold has been treasured for its unmatched luster, beauty and intrinsic value. Today, gold continues to enjoy widespread appeal as an investment and storehouse of value. Gold is an internationally recognized monetary and financial asset held in reserve by major governments. It is so rare that all the gold ever mined could fit into a cube measuring just 20 yards on each side. Most importantly, gold can play a significant role in diversifying an investment portfolio, since it can move independently of stocks and bonds. What's more, gold is a tangible asset - one whose beauty and artistry you can literally hold in your hands. When purchased in the form of legal tender bullion coins, gold can be affordable, as well as easy to buy and store.
Thomas Cook also carrys Precious Metal Bars, sometimes referred to as ingots, which can be issued by either a country or by a private company. These bars can be of any size or shape, and their weight can be given in either grams or ounces. There is no standardization among manufacturers.
For Thomas Cook the most commonly traded bars are those issued by Credit Suisse, Engelhard Industries, and Johnson Matthey.
---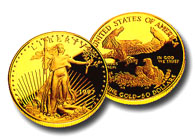 Authorized by the Bullion Coin Act of 1985, American Eagle Gold Bullion Coins quickly became one of the world's leading gold bullion investment coins. Produced from gold mined in the United States, American Eagles are imprinted with their gold content and legal tender "face" value. However, the face value is largely symbolic since their market value has historically been much higher. American Eagles use the durable 22 karat standard established for gold circulating coinage over 350 years ago. They contain their stated amount of pure gold, plus small amounts of alloy. This creates harder coins that resist scratching and marring, which can diminish resale value. Minted to exacting standards, the obverse (front) design is inspired by what's often considered America's most beautiful coin: Augustus Saint Gaudens' celebrated $20 gold piece, minted from 1907-33. The reverse features a nest of American Eagles, symbolizing family tradition and unity.
What truly sets American Eagles apart is that they are the only bullion coins whose weight, content and purity are guaranteed by the United States Government. Investors can buy them with confidence, knowing the coins contain their stated amount of gold. In addition, long-term savers can include American Eagles in their Individual Retirement Accounts (IRAs).
The American Gold Eagle is availale in 1 once, ½ once, ¼ once, 1/10 once from Thomas Cook.
---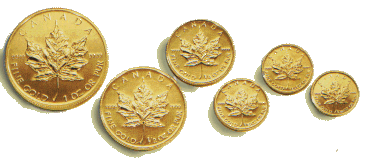 Each Maple Leaf coin is struck from .9999 fine gold. It was the first gold bullion coin to have its fineness struck directly on the coin. The Maple Leaf is minted in sizes from 1 oz. to 1/20th oz. Every Maple Leaf Coin is guaranteed by the Government of Canada for its weight and purity. There is a size to fit every budget.
The Maple Leaf is available from 1/10 of an ounce up to 1 ounce.
---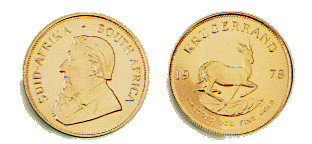 The South African Krugerrand is avaliable in the 1 oz., 1/2 oz.,1/4 oz., 1/10 oz. sizes.
---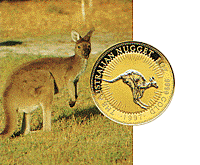 The Australian Kangaroo Nugget bullion coin is the only major, legal tender, pure gold coin to change its design each year and limit its mintages annually. The Nugget features a depiction of a kangaroo and is currently in its eighth design in this successful series.
---

Rarity, beauty, and lasting value-these attributes are exemplified in the Panda Gold Coins series. From their introduction in 1982 through the unveiling of the 1997 issue, Gold Pandas have generated worldwide demand. Each issue bears the common obverse of the Temple of Heaven in Beijing. However, every year a pleasing new reverse appears, always depicting a new panda design.
All Gold Pandas are produced from 24 karat gold, .999 fine, and are legal tender in China.Due to their scarcity, the 1982, 1983 and 1984 gold Pandas trade at a substantial premium over their gold value. The 1987 Panda coins are unique as they are the only Panda coins to carry a mint mark. 
---
Information on Silver
Since antiquity, silver has been one of the most prized precious metals.
Today silver is valued for its uses in the photography and electronic industries for its application to space and military technologies. It is also essential for the manufacture of medical and dental supplies, mirrors, battteries and many other products fundamental to modern life.
In recent years, silver has had highs and lows on the market and this trend is expected to continue. Its volatility and affordability combined make it very attractive and potentially profitable investment. An ideal choice for diversifying a portfolio.
Thomas Cook is proud to offer these products as silver investment opportunities:
---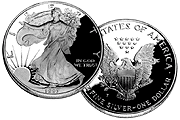 American Eagle Silver Bullion Coins are affordable investments, beautiful collectibles, thoughtful gifts and memorable incentives or rewards. Above all, as legal tender, they're the only silver bullion coins whose weight and purity are guaranteed by the United States Government. They're also the only silver coins allowed in an IRA.
Silver has historically been the most affordable precious metal. Since 1986, the United States has minted one-dollar silver coins called "Silver Eagles." Each contains a minimum of one troy ounce of 99.9% pure silver.
Each silver Eagle is a work of art meticulously crafted to the exacting standards of the United States Mint. The design is based on Adolph A. Weinman's 1916 "Walking Liberty" half dollar, widely considered one of the more beautiful American coins ever minted.
Silver Eagles are easy to buy and sell at most coin, precious metal and brokerage companies. Prices are based on the market price of silver, plus a small premium to cover minting and distribution costs.
Affordability. Credibility. Beauty. They're the qualities that have made American Eagle Silver Bullion Coins the world's best-selling silver coins, with more than 60 million sold since 1986.
---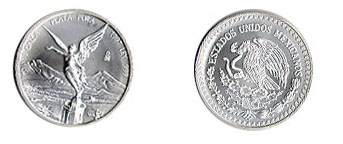 This 1997 Mexico "Libertad" contains 1 ounce of pure .999 fine silver. This coin is part of a series of Libertads made since 1982.
---
Silver Bars
Silver Bars come in a variety of sizes ranging from 1 oz. to 100 oz. bars. Each bar is minimum .999 pure. Two of the most popular silver bar manufacturers are Johnson Matthey and Engelhard. Please call 1-800-Currency for more information on specifics.


Company | Services | Call Center | History | Feedback | Branch Locations