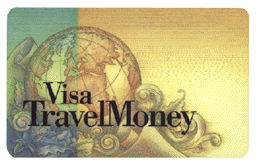 THOMAS COOK AND VISA TRAVEL MONEY/ROADCASH
Press Releases|What's New|Back to Corporate Page
---
THOMAS COOK VISA TRAVEL MONEY/ROADCASH DEBUT
Do you wish there was a convenient and secure way to carry cash in every currency you need when traveling?
Now there is with Visa TravelMoney.
Visa TravelMoney is a pre-paid travel card that gives you 24-hour access to your travel funds in any local currency. With Visa TravelMoney, you can conveniently obtain cash to pay for taxi and metro fares, gratuities, museum entrance fees, telephone calls, souvenirs, snacks, and many other cash expenses. Your dedicated travel funds can be quickly accessed from over 440,000 Visa/PLUS ATMs in 117 countries. What's more, your funds are fully protected by your personally-selected PIN (personal identification number). And because Visa TravelMoney is a pre-paid, disposable card - not associated with any of your bank accounts - you can simply throw away the card when your funds are depleted.
Why Use Visa TravelMoney?
Worldwide 24-hour cash access. You can access your dedicated travel funds in local currency at more than 440,000 Visa/PLUS ATMs in 117 countries.
Security. Visa TravelMoney is PIN-protected and its value is stored on the Visa TravelMoney system, not on the card. So, if you lose your card, you don't lose your money.
PIN protection. Visa TravelMoney allows you to select your own PIN, providing extra protection if your card is ever lost or stolen.
Variable purchase amounts. Visa TravelMoney can be purchased in any amount - there are no fixed denominations.
Favorable foreign exchange rates. By using Visa/PLUS ATMs, you receive Visa's favorable foreign exchange rates.
Multiple cards. You can purchase up to 9 additional cards to access the same funds, then give them to traveling companions or keep them as instant replacement cards in case your primary card is lost or stolen.
---

---
---
The information contained in this web site is deemed reliable but is not guaranteed. Every effort has been made to ensure the accuracy of data based on available sources.
Copyright 1998 Thomas Cook North America. For comments concerning this page and design: Vanessa Howle
This page was last updated Sept 1998